I have returned to livejournal to confess that I still don't know what Twitter is... and please don't leave me a comment explaining what it is... cause I don't care.
Woah, people still update these things? No offense. I actually miss this thing.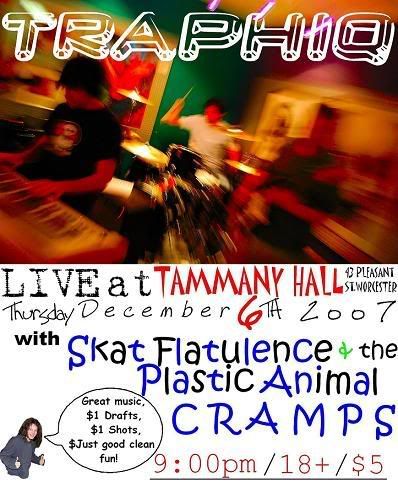 And incase the photo isn't showing up for some people...I'm talking about tomorrow night at Tammany Hall.
Traphiq is playing, starts at 9pm, 18+, $5 at the door.
The Car Accident
So I got into my first car accident ever the other day. First collision in three years, I really think that calls for a celebration. The first reaction I get from people are, "Oh my God, are you okay?!"...which is expected, and I am grateful to have people care...but my reaction was simply, "God...damn it!" The statistic is true, most accidents usually occur when you've just left your house...I was coming down around Arrarat to get onto the highway, and this guy was stopped at the yield sign. So, I waited, and he was easing out...I turned to see if anyone else was coming...and I thought the guy in front of me was gone (because he started to drive)...so I hit the gas with my head looking at the opposite direction...thinking...he was gone...but he was still there and CRASH! Luckily no one was hurt, and he wasn't an asshole, so I didn't get my ass kicked or anything (which is amazing considering this is Worcester). I got the one guy on the stretch that lived in Boston...but ya know, you would think that a guy from Boston would be a little more aggressive? I don't know...I take total fault, and I'm pissed because it's such a rookie type of accident...three years, nothing...and then I rear someone in the dumbest way possible...I've been going on much too long about this...So, I'm fine, he's fine. My car has a crack and needs a new grill, but whatya gonna do right? The only thing I can't understand is, if I was ready to go cause nobody was coming our way...why was he still there? Oh right, he had a dog in the back seat...yeah he's fine too...

The Calico Revolt
Saturday night was The Calico Revolt's second show! I hit the road with Petey to Northampton, or NoHo as the cool kids say...and this was like, a few hours after my collision. I was happy that everything was working fine...
The show went alright, I choked on our only cover...which was The Shins...and I was honestly more nervous about that than the car accident...cause I was in a room full of college hipsters and I couldn't even get passed the intro on the keyboard...I was lucky to make it outta there alive...

The drive home was...fun...definitely...We could barely figure out how to get out of the surrounding downtown area...and we had been accused of being NoHo-Tards. But that wasn't nearly as bad as this next mistake...
We jumped on the Pike.
ME: Hey this is taking longer than usual.
PETE: Yeah man.
ME: There are no exits for any of these towns...
PETE: Yeah there's a big lake that runs along here...
ME: Huh...hey why are we so deep into the Berkshires?
PETE: Uhh...hmmm...uh oh...

A sign read: LAST EXIT IN MASSACHUSETTS


"And that's all I have to say about that."


7:00pm at The Q (362 Chandler Street, Worcester)

Also appearing:

- (from Boston) The Grownup Noise

- Traphiq
Saturday, Brian Dutremble & I are going to unveil The Calico Revolution.




Anyway, the September curse is broken for the most part. Rosy is home, we saw Rilo Kiley, Stars and Foo Fighters have some new material. I still have two jobs and I'm also volunteering at Burncoat. And I'm still trying to have two bands. But with all this running around I don't want to miss the good stuff. The good stuff like apples, and leaves, and Halloween, and the crisp fall air (even if it is eighty something degrees right now).



I am thrilled to be in October, I just heard Radiohead is releasing a generous new offer. Next week we are attempting Rosy's doctor appointment again. And then we are going to see Jesse Malin and The Smashing Pumpkins. Woo! Not to mention the Spider-Man 3 disc comes out on Halloween.



So what is the point of this rambli--who am I kidding all my entries are rambles. I just had to clear my thoughts I suppose. Review the good stuff. I also need to start creating again. The act of being creative is very fulfilling.
2007 is nine months in, and it has been quite an interesting journey. Take this past September for instance...I'm always in fear of September, due to the past...but it turned out okay. On Thursday the 20th, I thought September had won once again, when Ashley and I lost Rosy to the tempting woods behind the Auburn mall while trying to meet up and take her to the vet. It was a terrible three days (not counting Friday the 21, Rilo Kiley's show), but Sunday the 24th I found her...? No, it's not that I'm not sure if it's her or not, but it was rather strange I do believe. It's a long story, and I've told it a thousand times, but basically I drove through there around 11:30/12:00am and well...she was there. And I caught her. She's a rabbit. (Special thanks to a kind security guard. There not all bad. In fact I might actually be one soon. Go ahead and laugh.)
I'm very scattered these days. Perhaps I'm doing too much? Or not enough? I'm not quite sure. It's most likely all in my head. I've yet to do things I said I would do back in May (pretty much since I got back home). I do feel like the summer has been rather decent. I've done a lot. I went to Cape Cod four times. Saw a lot of movies. Bought some new albums which I love. I just hope there's more romance this fall and winter. We've been so busy, and as a result the summer zipped by. I am happy about one thing though: I don't fear this fall. I am excited about this fall. Usually I'm afraid to let go of the summer, which I still feel, but this season looks promising. And a big plus is I won't be leaving again, I'll just be working. As much as I liked being in Toronto, I'm happy I'll be home this time. I still have weird flashbacks, and I sometimes wake up thinking I'm still there. But then there are times when I forget and it's like it was all a dream. I am glad that the one real friend I had is still keeping in touch with me. I feel like it means we'll see each other again and possibly do some work together. Makes me want to contact the other friend, whom I think was a real friend. But at the end of the day, I'm glad I'll be in Worcester this fall...yes, shocking. It's strange that, this was the third summer Ashley and I have spent together, but this will only be the second fall. Which is probably why I'm more excited this time around. I missed Thanksgiving last year too. Christmas was rushed. Yeah I'm looking forward to this season. We're going to see Rilo Kiley, Smashing Pumpkins; Dane Cook has two new movies and an album coming out. Not to mention that I have two musical projects and two jobs to boot (thanks friend). I feel like I'm set for this season, but I wonder about 2008. I still have to persue the things that I love, I just don't know where to begin. Basically I'm somewhat set with music: we're playing, attempting to record, and booking shows. I'm content with that. But my film "career" has been sitting on the crapper and I wonder if it has climbed out the window since...I'm not even sure what that means, but...it's true! I did purchase a new mini-DV though. Not the best, but cheap. I have ideas for starter projects. It's just the matter of organizing them. Then there's the writing. It feels good to write this entry. I haven't really written this much since...? I think it's all the matter of turning off my brain and just hitting the cruise control. Having two jobs and two musical projects has boosted my self esteem. It has. Now I just need to backtrack and pick up some pieces. So, do I have this all figure out now that I have written it out? We shall see. Little things seem to bring me down majorly lately. It's terrible. I need to build some strength. Keep on keepin' on, I suppose. The weirdness continues...

Seems like most of my favourites are coming out with great new stuff, starting with The Smashing Pumpkins, Arcade Fire, The White Stripes (which I still have to purchase)...I did really enjoy Jesse Malin's new album (not that I know him that well, but still)...and now I hear Foo Fighters & Stars are coming out with stuff in September!? And Radiohead is working on something?!! Not to mention Rilo Kiley this month, whom I'm going to see next month with Ashley. Oh, and did I mention I have Pumpkins tickets for their opening day in Boston?

Last night was Traphiq's first gig in a year or so. I'm satisfied. It was fun. It felt real. And I think we were appreciated. Yes, Traphiq was appreciated by more than two people for once. It feels good. Even though I've been back from Toronto since 29 April, I'm finally starting to feel like I'm almost fully back.
This year has been excellent for music. I am quite happy about that.
I think sleep has become my worst enemy.